Petra is the warrior of the New Order of the Stone.
Appearance
Everyday
In her Everyday form, Petra wears a blue-green bandanna, black vest, dark blue shirt, black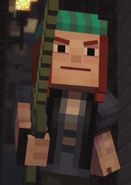 shorts, and black boots. She sometimes wears a black sleeve on her left arm and a black fingerless glove on her right. She has brown eyes and auburn hair.
Powered
In her Powered form, Petra wears dark blue armor with a gold tint.
Personality
Petra is a rough-and-tumble tomboy to the core. She loves competition and often goes out mob-slaying at night. She is fiercely loyal to her allies.
Moves
All-Out War: Petra runs at the enemy and tries to slice them with her sword.
Acrobatics: Petra uses a series of gymnastics to sneak up on the enemy.
Tropes
Trivia
Petra has the least moves of the New Order.

To make up for this, she has the strongest attack power.