Olivia is the redstonist of the New Order of the Stone.
Appearance
Everyday
In her Everyday form, Olivia wears a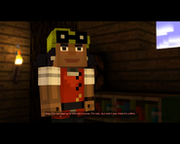 green beanie, goggles, a red shirt with white sleeves, black pants, and brown shoes. She has dark eyes, dark skin, and black hair.
Powered
In her Powered form, Olivia wears armor
similar to Ellegaard's, along with goggles that are somewhat similar to
Lukas'
.
Personality
Olivia is an intelligent girl, but is mostly negative. She tends to be a pessimist, but she is usually cheered up via pep talk.
Moves
Redstone Archer: Olivia builds a redstone cannon to destroy mobs.
Flying Barge: Olivia creates a flying machine.
Tropes
Trivia
Olivia is the only dark-skinned member of the New Order.