Lukas is the builder of the New Order of the Stone.
Appearance
Everyday
In his Everyday form, Lukas wears a purple-and-white shirt, leather jacket, jeans, and brown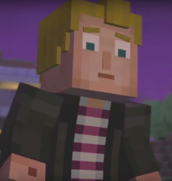 shoes. He has blond hair and blue eyes.
Powered
In his Powered form, Lukas wears orange and gray armor, goggles, gray gloves, and gray boots.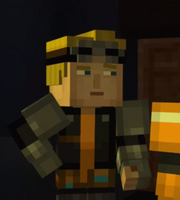 Personality
Lukas is loyal and kind, often concerned about the safety of others. He is usually the peacemaker of the group, trying to break up arguments. However, Lukas hasn't failed to get into the occasional fight himself - fighting mobs not included.
Moves
Enhanced Vision: Using his goggles, Lukas can see farther and through things.
Speed Build: Lukas builds a wall or something to defend himself.
Rage: On occasions when Lukas is truly angry, his power is increased by 50%.
Tropes
Trivia
Lukas is ailurophobic (scared of cats).