Axel is the griefer of the New Order of the Stone.
Appearance
Everyday
In his Everyday form, Axel wears a green jacket, black
fingerless gloves, tan pants, and sandals. He has dark eyes and hair.
Powered
In his Powered form, Axel wears the same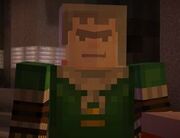 clothes except they are much more durable. He also wears a glass helmet on his head.
Personality
Axel is the jokester who enjoys making his friends laugh. He serves somewhat as comic relief, delivering sarcastic quips and short one-liners.
Moves
Blown Away: Axel uses a mountain of TNT to blow away the enemy.
Strength: Axel uses superhuman strength to throw things at the enemy.
Choker: Axel chokes the enemy.
Tropes
Trivia
Axel resembles Wreck-It Ralph.
Ad blocker interference detected!
Wikia is a free-to-use site that makes money from advertising. We have a modified experience for viewers using ad blockers

Wikia is not accessible if you've made further modifications. Remove the custom ad blocker rule(s) and the page will load as expected.